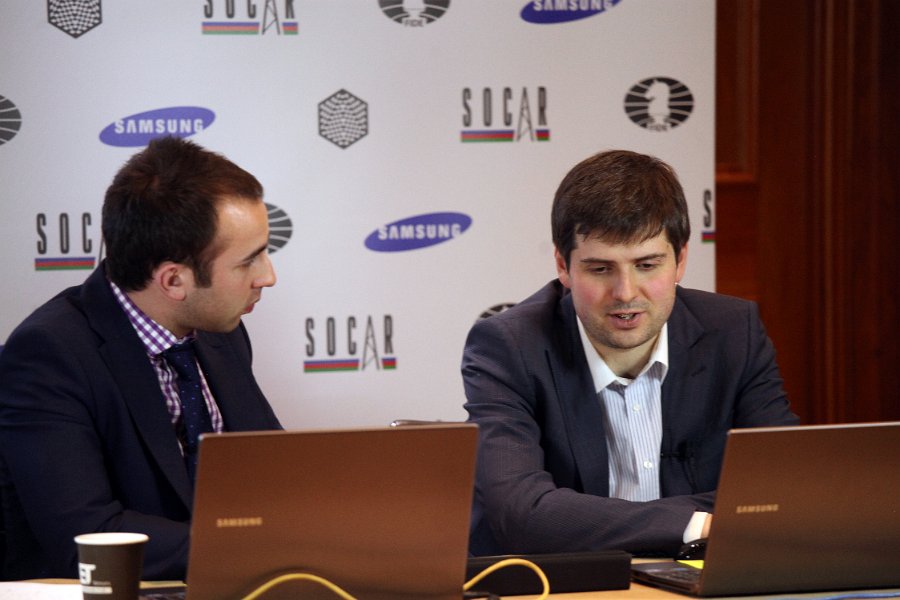 (Photo taken from the official site of the tournament)
Although all 4 games finished in a draw, players showed an incredible fighting spirit! In the game Ivanchuk-Carlsen – 11.Qa3 turned out to be a novelty, later on Black sacrificed a pawn to simplify and was never in any danger. Svidler got what seemed to be a huge positional advantage against Gelfand out of a 5.Bd2 Gruenfeld (some online sources may call it prosaic, but it never showed :)), with very good attacking possibilities. The 7.f4 & 8. Nf3 plan was new and looks very strong. Perhaps, one improvement is 14.g4 with the idea of Qh3 directly, keeping the d4-pawn protected well for the time being. In Kramnik-Aronian game 11…Qb8 was a new plan, which gave Black a very solid position. White sacrificed a pawn on a2 trying to activate the pieces on the kingside and get attacking chances, but Black managed to give the pawn back and neutralise the threats. One possible suggestion is 27…f6 exchanging part of white's center, another is 32…Rc2 with the idea of b2. Radjabov played a new move 13…g6 against Grischuk, instead of 13…Ba6 played in the game Nakamura-Gelfand, 2011 or 13…Bf6 played in Wang Hao-Matlakov, 2012. Looks like Black got a very solid play on the queenside and then made an interesting piece sacrifice on c5 to get 3 passed pawns against the N. It was perhaps better to play 36…b4 directly although the N never looked too great against the pawns.
Aronian and Carlsen share 1st – 2nd places with 3.5 points, Svidler is 3rd with 3.
Pairings of today's round
GM Svidler Peter 2747 – GM Carlsen Magnus 2872
GM Kramnik Vladimir 2810 – GM Ivanchuk Vassily 2757
GM Grischuk Alexander 2764 – GM Gelfand Boris 2740
GM Radjabov Teimour 2793 – GM Aronian Levon 2809