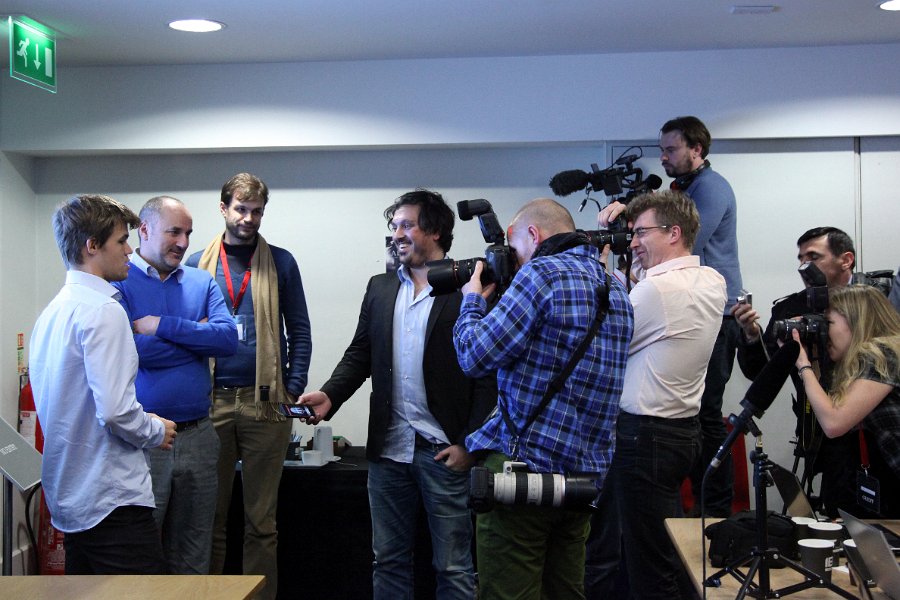 (Photo is taken from the official site of the event)
Carlsen is the winner of the Candidates Tournament after a dramatic round when both leaders suffered a loss, but Kramnik had 5 victories while Carlsen had 6! According to FIDE calendar the World Championship Match between Carlsen and Anand is going to happen from 6-Nov-2013 to 26-Nov-2013, so pretty soon! 🙂
GM Carlsen Magnus 2872 0-1 GM Svidler Peter 2747
GM Ivanchuk Vassily 2757 1-0 GM Kramnik Vladimir 2810
GM Gelfand Boris 2740 1/2 GM Grischuk Alexander 2764
GM Aronian Levon 2809 1-0 GM Radjabov Teimour 2793
Aronian-Radjabov was a quiet 5.h3 system of the KID and seems like Black equalized in the opening. Later on white exchanged a Q for two rooks but Rf1 wasn't active. Perhaps it was a good idea to play 26…Qd2 to prevent it from playing Re1-e2. And 29…a4 was a mistake, instead Black should have protected f7 with the help of Kg7 and Qf5 when it is very difficult for white to do something real.
Carlsen-Svidler was an unusual game :). Svidler played very well and equalized, spending relatively little time for good moves, while Carlsen in an atypical way for him, spent a lot of time and got into time pressure already around move 20.
Kramnik played the Pirc against Ivanchuk, which is usually his choice of opening when he needs to win. Ivanchuk again got into time pressure but managed to outplay Kramnik in it and win.
Gelfand tried the rare 5.Bd2 line in the Gruenfeld against Grischuk but didn't manage to get advantage and the game was the first to finish.
Today is the closing ceremony.