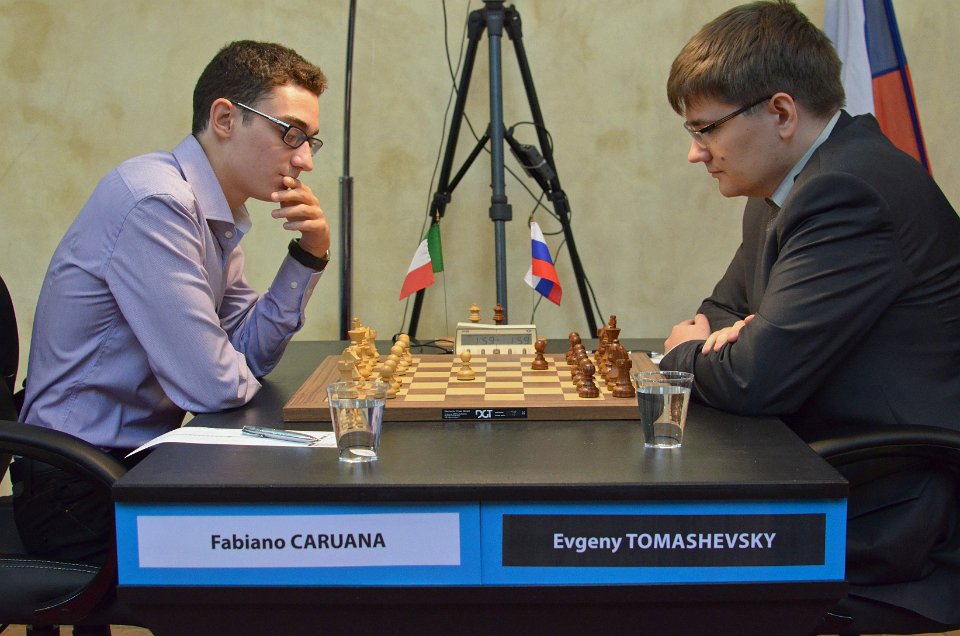 (Photo taken from the official site)
What an incredible round it was! Nakamura (the leader of the event for 2 rounds) lost to Gelfand, Caruana managed to win against Tomashevsky (who hadn't lost a single game in the event yet!). So, now
Caruana & Gelfand lead the tournament with just one round to go!
Results of the 10th round
GM Ponomariov Ruslan 2756 ½ – ½ GM Wang Hao 2736
GM Fressinet Laurent 2708 0 – 1 GM Bacrot Etienne 2723
GM Grischuk Alexander 2785 ½ – ½ GM Dominguez Perez Leinier 2757
GM Caruana Fabiano 2779 1 – 0 GM Tomashevsky Evgeny 2703
GM Ivanchuk Vassily 2731 ½ – ½ GM Giri Anish 2737
GM Nakamura Hikaru 2772 0 – 1 GM Gelfand Boris 2764
Standings after 10 rounds
1 GM Caruana Fabiano 2779 ITA 6½
2 GM Gelfand Boris 2764 ISR 6½
3 GM Nakamura Hikaru 2772 USA 6
4 GM Bacrot Etienne 2723 FRA 6
5 GM Grischuk Alexander 2785 RUS 5
6 GM Dominguez Perez Leinier 2757 CUB 5
7 GM Ivanchuk Vassily 2731 UKR 4½
8 GM Ponomariov Ruslan 2756 UKR 4½
9 GM Wang Hao 2736 CHN 4½
10 GM Tomashevsky Evgeny 2703 RUS 4½
11 GM Fressinet Laurent 2708 FRA 4
12 GM Giri Anish 2737 NED 3
Pairings of the last round
GM Wang Hao 2736 – GM Fressinet Laurent 2708
GM Bacrot Etienne 2723 – GM Grischuk Alexander 2785
GM Dominguez Perez Leinier 2757 – GM Caruana Fabiano 2779
GM Tomashevsky Evgeny 2703 – GM Ivanchuk Vassily 2731
GM Giri Anish 2737 – GM Nakamura Hikaru 2772
GM Gelfand Boris 2764 – GM Ponomariov Ruslan 2756